PuffinPaper
Synthetic Waterproof Paper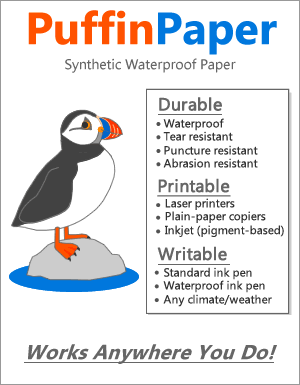 PuffinPaper is your easy choice for a waterproof paper. It works in any weather, and you can print on it with laser printers, inkjet printers and plain paper copiers.

Don't take chances with your important documents! Use PuffinPaper to print your outdoor forms, maps, charts, signs, and documents. You can write on PuffinPaper with a standard ballpoint pen. For best results use a pen with waterproof ink. Check out the important characteristics of PuffinPaper below.



Durable

Waterproof
Tear resistant
Puncture resistant
Abrasion resistant



Printable



Laser printers
Inkjet printers
Plain-paper copiers



Writable



Standard ink pen
Waterproof ink pen
Any weather / climate



Why PuffinPaper?
We have been selling waterproof paper to people who work and play outdoors since 2003. We recently found PuffinPaper, a synthetic paper that we like more than any other. Based upon customer feedback we are confident that PuffinPaper will become a customer favorite.


Printing and Writing on PuffinPaper?
PuffinPaper works great in laser printers, inkjet printers and plain paper copiers. It feels nice in your hand and under your pen. It is waterproof, tear resistant, puncture resistant, and abrasion resistant. You can write on it in any weather and any climate. It remains pliable and writeable at temperatures from -70°C / -94°F to 180°C / 356°F. You will go indoors or your pen will stop working before PuffinPaper quits on you. It also folds with a nice crease. You can cut it and the edges will have the same waterproof character as the center of the sheet. It forms a strong bond with laminates and works well with most adhesives.

When PuffinPaper is used in a printer or copier the ink dries in seconds and the colors are vibrant. For best results, use a "light" or "economy" setting to conserve ink and avoid applying more ink than the paper can absorb. PuffinPaper works best with a medium-width standard ballpoint pen and even better with a ballpoint pen that writes with waterproof ink.


The Only Downsides
The only downsides that we see are that PuffinPaper does not accept pencil, and gel pens can smear. These same "problems" are present with almost any synthetic waterproof paper. Even though PuffinPaper resists water, punctures, abrasion, chemicals and more, it isn't bulletproof. Keep in mind that any "synthetic waterproof paper" is a thin sheet of "plastic" and set your expectations with that in mind. For that reason we still recommend more durable materials -- like metal signs -- when your anticipated use is likely to exceed what a thin plastic sheet will endure. For any important use we recommend that you test the paper, printer, ink/toner and writing implement combination in advance to confirm that they will work well together.




Pens and Ink
Best Selling Pen
Waterproof Ink

Black Medium Point Refill
Waterproof Ink

Space-Tec Soft Grip
Waterproof Ink