Waterproof Inkjet Paper
We sell two brands of paper for inkjet: 1) "Weatherproof Paper" is our best seller; and, 2) "WeatherJet" paper is the best performing. They are both waterproof synthetic papers similar to a thin plastic sheet. Customers include hikers, hunters, firefighters, greenhouses, contractors, police, fishermen, scientists, and military organizations. We recommend using a waterproof pen for best results.


iGage Weatherproof Paper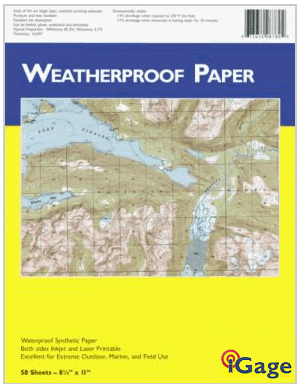 Our best-selling paper. Weatherproof Paper is excellent for extreme outdoor, marine, lab and field use. Use it when you need a durable paper for maps, forms, signs or notes.

It is a synthetic paper similar to a thin plastic sheet. Designed especially for printing topographic maps, this durable, tear-resistant, Weatherproof Paper has excellent ink absorption, can be folded, glued, embossed or laminated.

Printable on both sides and puncture resistant. You can write on it with a standard ballpoint pen, but we recommend writing using a pen with waterproof ink for optimum results (does not accept pencil).

Each package contains 50 sheets of Weatherproof Paper designed for both inkjet and laser printers. Also works in most plain-paper copiers. Available in 8.5x11 and 11x17 sheets.

Available in two thicknesses: 8 mil (for economy and foldability), 10 mil (for greater stiffness, durability, and printing on two sides).

Works in inkjet printers, laser printers and plain paper copiers.

WeatherJet Inkjet Printer Paper



Weatherjet Paper Is No Longer Available.

Sold Out
WeatherJet is a waterproof paper for extreme use. When you spend a lot of time working in the field, don't take chances with your important notes. Use the best - WeatherJet.
WeatherJet was designed especially for use in inkjet printers. It has a micro-porous surface that turns standard inkjet inks into permanent waterproof images. WeatherJet is printable on both sides! It has a thickness similar to 8 mil plastic. This paper does not accept pencil well and should be written on with a pen. We recommend
waterproof pens
to protect your important notes. Not tear resistant.
Works in inkjet printers only.