Waterproof Inkjet Paper
We sell two brands of waterproof paper for use in inkjet printers: 1) PuffinPaper, which is our favorite paper; and 2) "Weatherproof Paper," which is our current best seller. They are both waterproof synthetic papers and are similar to a thin plastic sheet. Customers include hikers, hunters, firefighters, greenhouses, contractors, police, fishermen, scientists, and military organizations. We recommend using a waterproof pen with these papers for for best results. They do not accept pencil.


PuffinPaper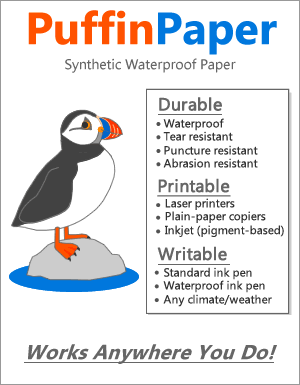 8 mil
8-1/2" x 11"
Light duty
One sided printing
---
---
---
10 mil
8-1/2" x 11"
Standard duty
25% Thicker
---
---
---
PuffinPaper is our favorite paper and it works great in inkjet printers. It also works great in laser printers and plain-paper copiers. It is your easy choice for a waterproof paper.

PuffinPaper works in any weather from -70°C / -94°F to 180°C / 356°F. It is waterproof, tear resistant, puncture resistant, abrasion resistant, chemical resistant and folds with a crease. PuffinPaper holds ink tenaciously because it is filled with tiny pore spaces. Inkjet ink enters these pores and bonds with the paper. That embeds your printing or writing into the paper so it will not wipe off.

Use PuffinPaper to print the forms, maps, charts, signs, and documents that you need to use outdoors. You can write on PuffinPaper with a standard ballpoint pen. For best results use a pen with waterproof ink. It does not accept pencil.

Works in plain paper copiers, laser printers and inkjet printers.

PuffinPaper is made in 8 mil and 10 mil thicknesses. Use the information below to help your decision.



8 mil
light duty
lower cost
folds neater
single-side printing

10 mil

standard duty
25% thicker
two-sided printing
best in high temperature printers




iGage Weatherproof Paper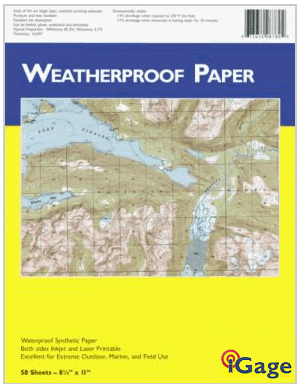 Our best-selling paper. Weatherproof Paper is excellent for extreme outdoor, marine, lab and field use. Use it when you need a durable paper for maps, forms, signs or notes.

It is a synthetic paper similar to a thin plastic sheet. Designed especially for printing topographic maps, this durable, tear-resistant, Weatherproof Paper has excellent ink absorption, can be folded, glued, embossed or laminated.

Printable on both sides and puncture resistant. You can write on it with a standard ballpoint pen, but we recommend writing using a pen with waterproof ink for optimum results (does not accept pencil).

Each package contains 50 sheets of Weatherproof Paper designed for both inkjet and laser printers. Also works in most plain-paper copiers. Available in 8.5x11 and 11x17 sheets.

Available in two thicknesses: 8 mil (for economy and foldability), 10 mil (for greater stiffness, durability, and printing on two sides).

Works in inkjet printers, laser printers and plain paper copiers.