Tips for Using PuffinPaper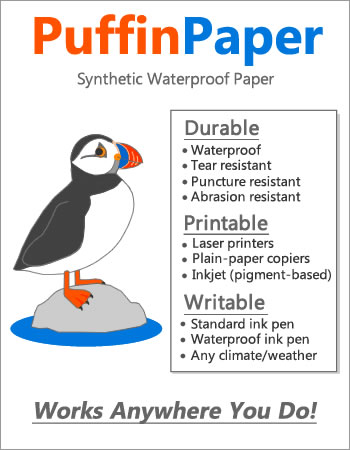 Get top performance when your paper, printing method and writing implement are compatible with one another and also with your environment of anticipated use.

PuffinPaper is our popular brand of synthetic waterproof paper. You can easily use it to create waterproof notes, maps, signs, forms and other documents that will perform well in any weather or climate. The tips below will help you get best performance.

Laser Printer and Plain-Paper Copiers apply toners that work superbly with PuffinPaper. Laser and copier toners consist of tiny particles that enter pores in the paper and lodge there. They are not prone to smearing in contact with water and resist fading in sunlight.

Inkjet Printers with Pigment-Based Inks also work great with PuffinPaper. Pigment inks do not smear in contact with water and resist fading in sunlight. Many office-grade inkjet printers ship from the factory with pigment-based ink cartridges. If you are not sure if your cartridges contain pigment-based inks, check the package, the enclosed documents, the webpage where they were purchased, or contact the manufacturer. See examples of what to look for here.

Inkjet Printers with Dye-Based Inks are not recommended. These inks are often soluble and can smear in contact with water. They also can fade quickly in sunlight. Dye-based inks are usually found in inexpensive inkjet printers, remanufactured inkjet cartridges, and inkjet refill kits. Here's a quick test that usually detects dye-based ink: print a document on regular paper, then wipe the document with a damp paper towel. If a lot of ink is removed and smeared, then the ink is probably dye-based. If you only have an inkjet printer with dye-based ink, you can print one copy of your document on regular paper, then reproduce it on PuffinPaper with a plain-paper copier.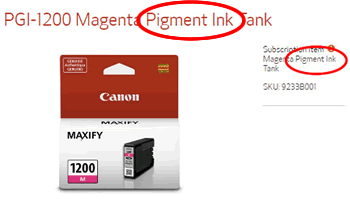 Determining if your inkjet printer is using a pigment-based ink is usually easy. Check the package for a statement about "Pigment Ink". If you don't have the package find a webpage where the cartridge is offered for sale and look for an indication of "Pigment Ink". The example above is for a Canon cartridge. You can see more examples

here

.

Apply a Minimal Amount of Toner or Ink for best results. A light application of toner or ink will usually be absorbed by the paper. Heavy applications might be too much for the paper to absorb and can smear. Apply a small amount of ink or toner by setting your printer to "light," "economy," "draft," or a similar setting.

Use an Appropriate Pen. Most standard ballpoint pens perform well with PuffinPaper. Pens that write with waterproof ink work even better. Gel pens are not recommended because they often smear in contact with water. PuffinPaper does not accept pencil.

Use a "Medium" Width Pen. "Broad" point pens often apply more ink than the paper can absorb. "Fine" point pens sometimes dig into the paper. Medium usually works best.

Test Before Important Projects. We always recommend testing to be sure that your paper, printing method, ink/toner and writing implement will perform well together in the environment of anticipated use.

More information about PuffinPaper can be found at HERE.