Weatherproof Paper by iGage
A Favorite Waterproof Paper for Printing Maps and Outdoor Documents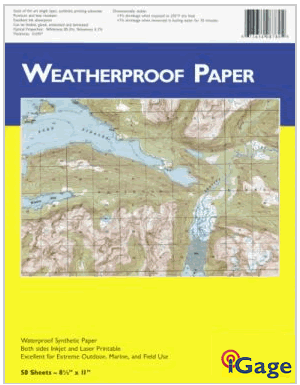 Weatherproof Paper is one of the most popular papers for printing maps for outdoor use. You can use it to print waterproof maps, signs, forms and other documents.

Weatherproof paper also resists abrasion, tearing and chemicals. For light-duty outdoor use the economical answer is a 50 sheet package of Weatherproof Paper in the 8 mil thickness. It is about the same thickness as standard printer paper and can be used in laser printers, inkjet printers, and plain-paper copiers. If you need extra thickness, a bit more durability or want to print on both sides then we suggest the 10 mil thickness.

Weatherproof Paper is a synthetic paper (similar to a thin plastic sheet). It can be written on with a standard ink pen or pens with waterproof ink. It does not accept pencil.

It is used for outdoor note-taking, maps, signs, forms and drawing. Weatherproof Paper has excellent ink absorption, can be folded, glued, embossed or laminated.

Available in two thicknesses: 8 mil (for economy and foldability), 10 mil (for greater stiffness and durability).

Works in laser printers, inkjet printers and plain paper copiers.

Pens and Pencils
Best Selling Pen
Waterproof Ink

Black Medium Point Refill
Waterproof Ink

Mechanical Pencil
Hard, Broad Lead