Rite in the Rain All-Weather Copier Paper
Get "all-weather" protection at an economical cost.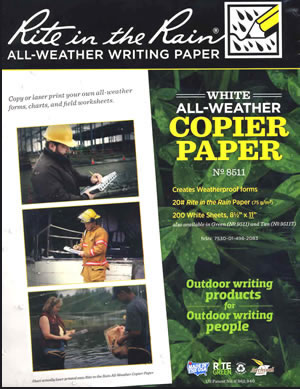 Rite in the Rain all-weather writing paper is perfect for taking notes outdoors in all types of weather. It is specially made for making copies in laser printers and plain-paper copiers.

We compared all of the papers that we sell and Rite in the Rain copier paper is the most economical per sheet. It costs about 80% less than DuraCopy and about 70% less than 8 mil iGage Weatherproof. The trade-off is that it is not tear-resistant and does not have the same moisture resistance as a plastic sheet. But it is perfect for light-duty use.

Rite in the Rain is a standard paper that has been coated to give it an all-weather writing surface that sheds raindrops and moisture. It is printable on both sides. We recommend writing with a pen with waterproof ink or a mechanical pencil with a hard, broad lead.

Lots of people and businesses use this paper to create custom-printed maps, forms, charts or signs for use in the field, laboratory, greenhouse, forest, boat, beach, or just about anywhere a weatherproof paper is needed.

It works great for printing topographic maps. Also available as a "military paper" in green and tan colors. We always have quantities in stock and are ready to ship it to you promptly.



Pens and Refills
Best Selling Pen
Waterproof Ink

Black Medium Point Refill
Waterproof Ink